Sulzer Type 2
From PikkaWiki
The Sulzer Type 2 is a diesel locomotive in the UK Railway Set.
Statistics and information

Prototype information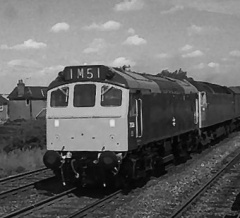 The
British Rail Class 25
was a small, but fast and useful diesel locomotive. They could be seen almost anywhere on the network doing almost anything, which earned them the nickname "rats".
Similar locomotives
As well as the Class 25, The Sulzer Type 2 stands for the similar Classes 24, 26 and 27, as well as other Type 2 and 3 locomotives such as Classes 22 and 33.