Metro-Cammell DMU
From PikkaWiki
The Metro Cammell DMU is a diesel locomotive in the UK Railway Set.
Statistics and information

Special GRF features
Prototype information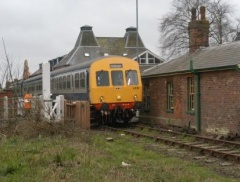 "Newfangled" DMUs made a big change to the railway scene from the mid 1950s. Replacing steam-hauled trains and older railbusses, their low running costs made many less-trafficked lines viable again, and their decent top speed allowed them to mix with traffic on the main line too.
Similar locomotives
The model in PJ1K is a Class 101, the first and best-known of the early DMUs, but it can stand for any of the first-generation units.