InterCity 125
From PikkaWiki
The InterCity 125 is a diesel locomotive in the UK Revival Set.
Description and Usage
The HST is the fastest non-electric train in the set, and is most suitable for long-distance passenger trains.
Statistics
File:SunshineHST.png


Long-Distance Express Diesel

InterCity 125
1976


(-)

Speed: 125 mph
Power: 4500 hp
TE: 160 kN



UKRS 2
The BR HST is a diesel locomotive in the UK Railway Set.
Statistics and information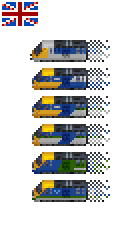 Special GRF features
Prototype information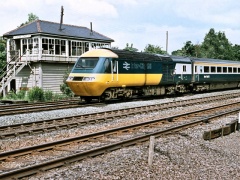 The
British Rail Intercity 125
was the fastest diesel train in the world when it was introduced in 1976. Since that time it has become as iconic as the
Gresley A4
, and re-engined HST locomotives are expected to serve well into the 21st century.