GEC Class 91
From PikkaWiki
The GEC Class 91 is an electric locomotive in the UK Railway Set.
Statistics and information

Type:
Express Passenger and Fast Freight Electric
Introduction:
1988
Withdrawal:
Speed:
140mph
Power:
6300hp
Weight:
84t
114t (with DVT)
Tractive Effort:
289kN
Capacity:
20 bags of mail (with DVT)
Replaces:
AL6
Replaced By:
Pendolino, A-Train
Special GRF features
Can only haul High-Speed Carriages or Freightliners (but not both mixed together).
Dual-headed train set with DVT when used on Passenger trains. DVT disappears when used on Freightliner train.
Locomotive flips direction when train reverses.
Prototype information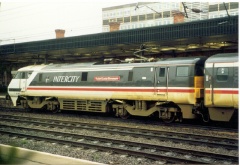 The
Class 91
, also known as the Intercity 225 (after its design speed in km/h), was British Rail's ultimate high-speed train design. Ever practical, the locomotives were also given a second cab in the flat end, to allow them to be used on high-speed container freights.