English Electric Type 3
From PikkaWiki
The English Electric Type 3 is a diesel locomotive in the UK Revival Set.
File:SunshineClass37.png


General Purpose Diesel

English Electric Type 3
1960


(2000)

Speed: 80 mph
Power: 1750 hp
TE: 247 kN



UKRS 2
The EE Type 3 is a diesel locomotive in the UK Railway Set.
Statistics and information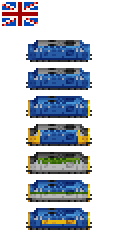 Prototype information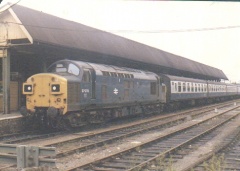 The
British Rail Class 37
was the longest-lived and most successful Type 3 diesel. Introduced by English Electric in 1960 as a medium-powered replacement for steam locomotives such as the
Jubilee
and Standard 5, it was a mainstay of the British locomotive fleet until the 21st century.
Similar locomotives
The EE Type 3 represents all early medium-powered diesels, including Classes 37 and 40.