2-6-4 Suburban
From PikkaWiki
The 2-6-4 Suburban is a steam locomotive in the UK Railway Set.
Statistics and information

Special GRF features
Locomotive flips direction when train reverses.
Prototype information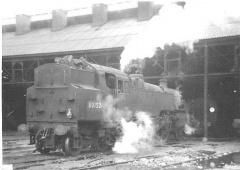 The
LMS/BR 2-6-4T
was a highly successful series of suburban tank engines, originally designed by Henry Fowler in the 1920s and subsequently tweaked by Stanier, Fairburn, and Robert Riddles. Production of the Riddles BR Standard 4MT ended in 1956.
Similar locomotives
Suburban passenger tank locomotives were used by all of the big four except the SR, who used EMUs and their Q1 Class tender locomotives. The equivalents of the LMS designs were the LNER N2 and the GWR 6100.