Hitachi A-Train
From PikkaWiki
The Hitachi A-Train is an electric locomotive in the UK Railway Set.
Statistics and information

Type:
Electric Multiple Unit
Introduction:
2016
Withdrawal:
N/A
Speed:
155mph (Overhead)
100mph (3rd Rail)
Power:
6500hp
Weight:
98t
Tractive Effort:
230kN
Capacity:
40 passengers
Replaces:
GEC Class 91, Pendolino
Replaced By:
Special GRF features
Prototype information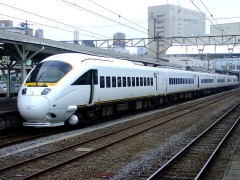 The "
Hitachi Super Express
" is the winner of the Department for Transport's competition for the UK's next generation High Speed Train, and is expected to enter service on the Great Western Main Line in 2016. Plans for a diesel version have been shelved as EU emission laws make it more economical to electrify lines than to develop high-speed diesels.