Stanier 8F
From PikkaWiki
The 2-8-0 8F is a steam locomotive in the UK Railway Set.
Statistics and information

| | |
| --- | --- |
| Type: | Heavy Freight Steam Locomotive |
| Introduction: | 1933 |
| Withdrawal: | 1975 |
| Speed: | 50mph |
| Power: | 1550hp |
| Weight: | 128t |
| Tractive Effort: | 144kN |
| Replaces: | Mineral |
| Replaced By: | Star, EE Type 3 |
Prototype information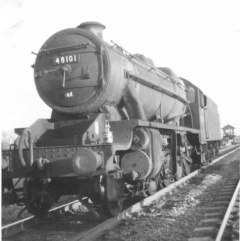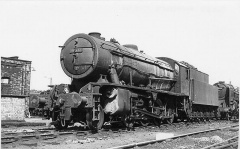 The
Stanier 8F
was a major break from the "small engine" policy the LMS inherited from the Midland Railway. Powerful and sure-footed, Stanier's design became the standard heavy freight locomotive produced by the British government during WWII, until it was replaced by a
simplified "Austerity" version
redesigned by R.A. Riddles.
Between the Stanier and Austerity versions, almost 2000 8F locomotives were produced by the workshops of all the major railways and private contractors, making them the most-produced steam locomotive in British history (and even if you don't count them as the same model, the Austerity is still the most-produced, with the Stanier in the top five). After the war, 8Fs were to be found working as far afield as Iraq, Scandinavia and Hong Kong.
Similar locomotives