Lockheed L-188
From PikkaWiki
The
Lockheed L-188
is a turboprop aircraft in
av8
.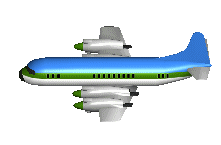 Commonly known as the 'Electra', it is not to be confused with the earlier Model 10 Lockheed Electra.
Stats
Introduction
1958
Withdrawal
1999
Aircraft Type
Small
Cruising Speed
376mph
Capacity
80 pax & 20 mail, or 80 crates of express cargo, or 40t of industrial cargo
30 pax & 60 mail (Combi)
Information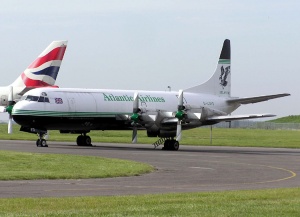 Like the Bristol Britannia, the American Lockheed Electra was only produced in small numbers, as jet airliners of a similar size were more appealing to the large airlines. After they fixed a minor problem with the wings falling off, the L-188 found a niche as a commuter airliner, for cargo, and as the Navy's P-3 Orion.
Aviators Aircraft (Av8)
GRFs
Aviators Aircraft Set • Apache • General av8ion


Defunct: Av8 extra aircraft
Aircraft
Early Aircraft
Turboprop Aircraft
Small Jet Aircraft
Large Jet Aircraft
Airships & Helicopters

Farman F.60 Goliath
Handley Page Type W
Fokker F.VII
Short S.8 Calcutta
Handley Page H.P.42
Junkers Ju 52
Lockheed Electra
de Havilland Dragon Rapide
Noorduyn Norseman
Douglas DC-3 +
Armstrong Whitworth AW27
Short S.26 Empire
Lockheed Constellation ++
Bristol Freighter
Antonov An-2
Boeing 377 Stratocruiser


Vickers Viscount
Bristol Britannia
Lockheed L-188
Lockheed L-100 Hercules
de Havilland Twin Otter
NAMC YS-11
Beechcraft 1900
de Havilland Dash 8
ATR-72
Pilatus PC-12
Airbus A400MCT
eAe Coronet 80
BB Metrocity
eAe Planchet 30


de Havilland Comet +
Sud SE-210 Caravelle
Boeing 727
Douglas DC-9 +
British Aerospace BAC 1-11
Boeing 737 ++
Yakovlev Yak-40
Antonov An-72
BAe 146 / Avro RJ
Fokker F100
Airbus A320
Embraer ERJ 145
Boeing 2100
Econoliner AX-3


Boeing 707
Douglas DC-8 +
Ilyushin Il-62
Boeing 747 ++
McDonnell Douglas DC-10 +
Airbus A300
Ilyushin Il-76 +
Concorde
Boeing 767
Airbus A330
Airbus A340
Boeing 777
Airbus A380
Orville Sub-Orbiter
J-Tech J-1 Roku
Centac Osiris
SCS Cygnet


Zeppelin
Airship
Westland Whirlwind
Sikorsky S-61
Sikorsky S-64 Skycrane
Boeing-Vertol 234
Sikorsky S-92
Zeppelin NT
Skylift 80
Eurocopter Orque 4
Skylift 150

Misc
Airports •  Disaster aircraft •  Aviators Aircraft Vehicle Statistics
Combi •  Aircraft which can carry any cargo •  Seaplanes