Douglas DC-8
From PikkaWiki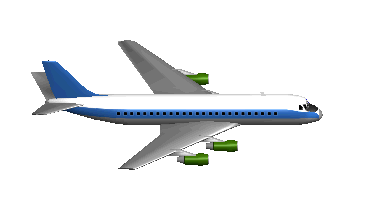 The
Douglas DC-8
is a jet aircraft in
av8
. Along with the
Boeing 707
, it is the first large jet available.
Stats
Introduction
1959
Withdrawal
1999
Aircraft Type
Large
Cruising Speed
592mph
Landing Speed
192mph
Capacity
124 pax & 30 mail, or 120 crates of goods
189 pax & 40 mail, or 180 crates of goods (1967 - Super 60)
Information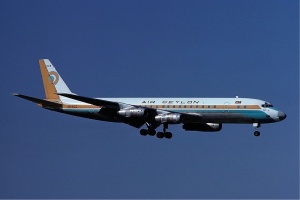 Douglas was the world leader in piston airliner production, with over 10,000 Douglas DC-3s built for the war effort. Their first jet airliner, the DC-8, was very similar to Boeing's 707, but never quite as successful.
Aviators Aircraft (Av8)
GRFs
Aviators Aircraft Set • Apache • General av8ion


Defunct: Av8 extra aircraft
Aircraft
Early Aircraft
Turboprop Aircraft
Small Jet Aircraft
Large Jet Aircraft
Airships & Helicopters

Farman F.60 Goliath
Handley Page Type W
Fokker F.VII
Short S.8 Calcutta
Handley Page H.P.42
Junkers Ju 52
Lockheed Electra
de Havilland Dragon Rapide
Noorduyn Norseman
Douglas DC-3 +
Armstrong Whitworth AW27
Short S.26 Empire
Lockheed Constellation ++
Bristol Freighter
Antonov An-2
Boeing 377 Stratocruiser


Vickers Viscount
Bristol Britannia
Lockheed L-188
Lockheed L-100 Hercules
de Havilland Twin Otter
NAMC YS-11
Beechcraft 1900
de Havilland Dash 8
ATR-72
Pilatus PC-12
Airbus A400MCT
eAe Coronet 80
BB Metrocity
eAe Planchet 30


de Havilland Comet +
Sud SE-210 Caravelle
Boeing 727
Douglas DC-9 +
British Aerospace BAC 1-11
Boeing 737 ++
Yakovlev Yak-40
Antonov An-72
BAe 146 / Avro RJ
Fokker F100
Airbus A320
Embraer ERJ 145
Boeing 2100
Econoliner AX-3


Boeing 707
Douglas DC-8 +
Ilyushin Il-62
Boeing 747 ++
McDonnell Douglas DC-10 +
Airbus A300
Ilyushin Il-76 +
Concorde
Boeing 767
Airbus A330
Airbus A340
Boeing 777
Airbus A380
Orville Sub-Orbiter
J-Tech J-1 Roku
Centac Osiris
SCS Cygnet


Zeppelin
Airship
Westland Whirlwind
Sikorsky S-61
Sikorsky S-64 Skycrane
Boeing-Vertol 234
Sikorsky S-92
Zeppelin NT
Skylift 80
Eurocopter Orque 4
Skylift 150

Misc
Airports •  Disaster aircraft •  Aviators Aircraft Vehicle Statistics
Combi •  Aircraft which can carry any cargo •  Seaplanes